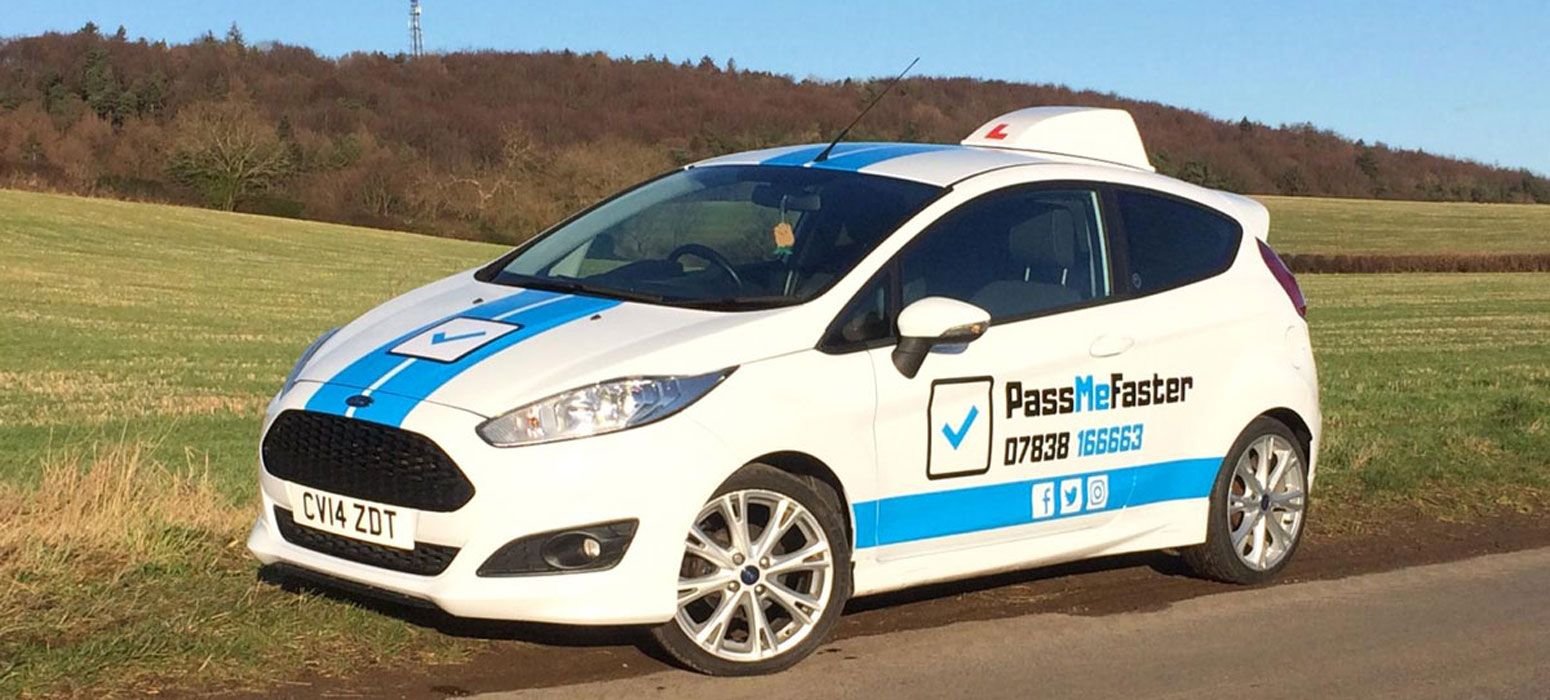 Why Pass Me Faster?
The Ultimate in Driver Training
Pass Me Faster was set up to ensure you get the best learner driving experience around.
You'll be working with the top instructors in your area – all fully insured professional people.
We're run by industry insiders who know how to make your time behind the wheel more enjoyable.
Learners of all skill levels pass their test with us.
#OnTheRoadWithinDays
i
Hey there!
Don't be shy. Pick up the phone. We'd love to hear from you.
Pass Me Faster Testimonials
"Very calm and patient."
Jak Garbutt, Guisborough
"I drove back home feeling confident."
Owen William Page, Teesside
"Would highly recommend."
Alice Barnett, Redcar
"Couldn't have asked for anyone better."
Kristyna Masatova, Grangetown
Check Pics or Leave a Review!
Pass Me Faster Services Preview
i
Polish up!
Your skills will be gleaming with this 5-hour starter.
Pass Me Faster 5-Hour Course
We've got the famous 5-hour starter course. Perfect for polishing your talent.
It's specifically for skilled drivers who only need buffing up to squeeze past the instructor on test day.
If you're already a confident driver with extensive wheel time, then this is the course for you. We can already hear your screams: "I've passed!"
i
Power Play
Feel the power of a Pass Me Faster 1-hour lesson. Power lesson. Power player
Pass Me Faster 1-Hour Lesson
Everyone knows the drill with a standard hourly lesson. It's our bread and butter.
Hourly driving lessons offer excellent value and ultimate flexibility for busy people who don't like to tie themselves down. Perfect for most.
What else can we say, other than hourly lessons are how the majority of drivers around the world pass their driving test. #PassYourTestFaster
i
Get intensive
Serious driving starts at the 10-hour mark. Get ready…
Pass Me Faster 10-Hour Course
Next in the Pass Me Faster inventory, the 10-hour mega-power intensive driving course.
You will have slightly less experience, but still be a confident driver with the wheel in your hands and your foot on the gas pedal.
Nothing is going to stop you from getting your test certificate. This course will give you the reassurance you need to pass. We're 100% certain!
i
Pedal Master
You're a gas pedal master in the making. Up your game.
Pass Me Faster 1.5-Hour Lesson
There's no stopping you with a 1.5-hour lesson in your life if 2-hours seems a bit too long?
1.5 hours offers that all-important flexibility we keep rambling on about. An extra 30 mins is a lot of driving!
You can use our hourly options as you see fit. 1.5 hours is not just super flexible, it's also manageable financially. Great for people watching their bank account.
i
Big fifteen
With a fifteen-hour bad boy under your belt. You're in it deep.
Pass Me Faster 15-Hour Course
Course number three is the 15-hour mid-range booster from Pass Me Faster.
If you've already spent a few hours rocking the back roads of your home town, then this course should be up your street.
You've got the driving skills to wow your instructor and impress the examiner. Your chance to shine with a 15-hour course locked in your diary.
i
Monster 2
Monster your driving test with a trusty 2-hour lesson from PMF.
Pass Me Faster 2-Hour Lesson
For those with time to spare, 2-hours is a good place to be for smashing your driving test.
Monster the roads with 2 solid hours of knowledge filled driving tuition. It's a solid financial/timely combo for everyone.
Squeeze a 2-hour lesson in your dairy and you'll definitely be ready to crush it like a monster. #MonsterIt
i
20 power
Don't get too big headed – your friends will be jealous 🙂
Pass Me Faster 20-Hour Course
This 20-hour driving course is learner heaven. You'll be spending quality time with a top instructor.
It's fair to say that you're no Lewis Hamilton at the moment… but you've got potential.
At least that's what your Nana tells you when you nip down to the shops and nearly scare the blue rinse off her head.
i
Mr Serious
Show you commitment to driving with a 10-hour block booking.
Pass Me Faster 10-Hour Block
Booking up for 10 hours is a great way to show your commitment towards passing your test.
You can save money, but still keep things flexible compared to the equivalent crash course. Learn at your own pace.
Once you've done your 10 hours, you can top it up with another block booking or keep it simple with extra hours. Your choice!
i
Wowzers!
Things don't get much better than this. Pass with ease.
Pass Me Faster 25-Hour Course
Pass Me Faster are rightly proud to offer our penultimate course – the 25-hour giant. It's enough to help anyone pass their test.
We'd be lying if we said it's Maureen proof. Remember her, homeboy?
Honestly, though, it's the nearest thing to passing your test we can give you, apart from it's slightly bigger brother…
i
Big Timer!
Now you're hitting the driving big time.
Pass Me Faster 20-Hour Block
Say pass-ta la vista to your driving instructor once you've got this under your belt.
As long as you knuckle down and concentrate. Twenty hours is a solid place to get yourself test ready.
Pass Me Faster's pro driving instructors will do there part, the rest is up to you…
i
Test Ready Eddy
This 30-hour monster will ensure the test is all but passed.
Pass Me Faster 30-Hour Course
The Pass Me Faster 30-hour course is the Tyrannosaurus Rex of the intensive driving course world.
This course will enable the worst driver in the North East to pass their test safely.
We're proud of all the drivers we've helped at Pass Me Faster. If you need more hours than 30 please get in touch and we'll make a special arrangement for you.
#TestReadyEddy
i
Block Star
Rev up your car, Block Start. This is the ultimate in single-lesson driving power.
Pass Me Faster 30-Hour Block
You will be the Block Star once you start driving your way through this big lump. Wow!
Turn yourself into the hottest learner around. You'll have the best of all worlds. Pick your hours and save some money, too. Flexy driver!
Still unsure? Nip over to our Pass Pics Gallery and you can see all the happy faces. They've just got their driving licence. That will be you next!
#BlockStarDriver